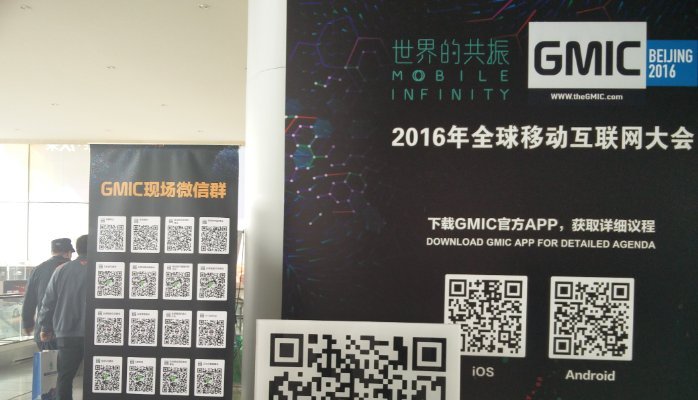 (Just finished attending GMIC Beijing. I'm writing this from Beijing but will do the follow on post(s) once I'm back in Bangalore).
GMIC is a  a monstrously large conference focussed on mobile and emerging tech. However, the discussion ranged from so-called Frontier Tech (AR, VR, Robotics, AI, even space) to deeper applications of mobile in FinTech, EdTech, Health, Media/Entertainment and even the role of mobile in day-to-day urban and rural lives. This year, they also had a dedicated half-day track on India Mobile Forum, where I led a panel discussion on "Investing in India".
While it is impossible to cover something like this in depty, thought I would share some impressions from the conference.
It is BIG! It is attended by over 50,000 people and 1000's of companies both domestic to China (Alibaba, Baidu, Xiaomi, etc.) and international (Google, Tesla, Qualcomm) were there.
EXTRAPOLATE

Good artists copy, great artists steal.
Pablo Picasso

It seems that GMIC has its own character and yet has been 'inspired' by good ideas from all over the world. The conference format seemed part TechCrunch, part SXSW, part CES and more… It was replete with eye popping consumer electronics, glitzy stages and even showgirls (gotta say, never seen showgirls selling Mobile AdTech!).




INNOVATE

The country has over 700M+ monthly actives on the internet. That's well over 2x of the USA's population (man, woman and child)!  With that level of consumption, there clearly a lot of things they are out-innovating the rest of the world. Here are some of them:

– My biggest aha moment was seeing them combine their prowess in Manufacturing and Software and now translating it into a consumer products, which are powered by software both on cloud and your mobile. You know that Xiaomi does mobile phones, TVs and accessories. You probably don't know that they are getting into rice cookers (!), water quality checking, power strips and air purifiers!

Qualcomm's Snapdragon was powering what was clearly the best demo at the conference, the Hover Camera (will post my own video once I'm back  "outside" the Great Firewall).

– They are as close to a becoming a cashless society (in pockets, of course) as I've seen. Heard several speakers talk about the fact, that one can go for a week in a place like Beijing or Shanghai without cash in your wallet!

– I had talked about "Chat being the new Search" after my last trip to China in Summer of 2014. Now its the "Chat as new OS" for everything you want to do on the internet. You can do peer to peer payments, play games, hire cabs, build apps inside chat, etc. And didn't hear about Chatbots yet. But can they be far behind?
– Having a large, private capital market, they are aggressive at investing big in the latest trends. They are investing in AI, Robotics, VR, AR, Autonomous Cars, Home Robots, Blockchain and the works.
And I'm talking several billions of dollars invested already! Perhaps there's a newXiaomi or even a Tesla in there somewhere.
GOING GLOBAL

Having dominated China, Chinese companies now have their eyes set on the global markets. To some degree, they things are slowing down in their local market since they are serving 100's of millions of customers already. For example, companies  YouDao (Ed Tech focussed, pic below), YouTou (YouTube clone), Dianping (think Yelp+Zomato+Fandango+), Cheetah Mobile, each have 300-400M+ users!

At another level, talking to several corporates and strategic investors, that the user and revenue growth is going to come from abroad. They are looking at emerging markets like India in a big way.

Its time for the rest of the world to both compete and co-operate with the Chinese!  Overall, irrespective of how we got here, I think lot of the mobile innovation is going to coming from China (and over time, India too).

Let me know in the comments below if you want to hear more about this and I will try and whip up another post on the China trip.

(Amit is a Managing Partner at Prime Venture Partners, a seed stage VC firm based out of Bangalore, India. Prime invests in category creating, early stage companies founded by rock star teams.  Amit has held leadership positions at Makemytrip, Google and IBM. He is also deeply engaged with the early stage ecosystem in India and actively volunteers with iSpirt, TiE and NASSCOM. He tweets regularly @amitsomani and is trying to become an active, late blooming blogger).