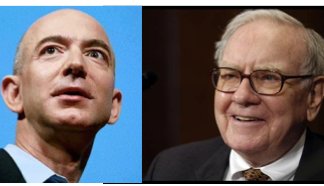 I am a HUGE fan of both Jeff Bezos and Warren Buffett. Both are legendary and inspirational leaders. It is annual ritual for me to devour their shareholder letters every year. It is treat to read these letters as a professional, a business leader, and as a venture investor.
I just read Bezos's letter on Amazon's annual performance in 2015. SomehowBuffett's letter from a few weeks ago popped into my mind. I went and re-read it. Both are different and yet similar in many ways. I've had the privilege of being an AMZN shareholder for almost 17 years (wish I had the wisdom to buy more!). That said, this post is not about comparing the businesses on their financial metrics. Plenty of people have done that. I reflected on their letters, their leadership styles and their business philosophies.
Let me start with some similarities across both:
Long term thinkers and well-read historians.

Both invariably start their letters with how their companies started (one 20 years ago) and the other over 5 decades ago. Not only that, they often refer to their founding vision and their performance through this time. Both are super adaptive and have created/backed amazing new businesses. However, they don't forget the  roots of where they started and keep reminding their shareholders of the same.

If you haven't yet read any Amazon annual letter, you are missing something. In fact, for most tech entrepreneurs, I recommend they read every single letter. You can access Amazon collection from 1997-2011 here. You can get all the BRKA letters here or purchase them as a physical book from Amazon. For Amazon, you will be surprised to see that every annual letter includes a copy of the first annual letter. Buffett lists the annual performance of the Berkshire Hathaway stock against the S&P500 since the beginning of BRKA.

Takeaway # 1: Will you be happy to reproduce your first letter to stakeholders decades hence?

Both of them read voraciously and on a diverse range of topics; Buffett is cited to read almost a book or two every day. Even at 85 years of age. And they quote generously from the literature they have read.
Eternal optimists

Both leaders have done amazing things and arguably have been a part of the most prosperous period in history. Both still think we haven't seen anything yet. In this year's letter, Buffett argues that a child born in the US today, will have a significantly better financial life than any generation prior to them. Buffett often talks about the fact that he's going to live to be 100+.

Amazon has been through incredible ups and downs for almost a decade (even after going IPO). From the Barron's Amazon.bomb story in 1999 to how they don't make any profits in 2013. Bezos has got a method to his madness, is an eternal optimist, a long term thinker and a relentless executor. Even outside of Amazon, he has invested almost $42M in a 10,000 year clock and technology to enable affordable space missions. How's that for long term?

Takeaway # 2: Are you convinced enough about your mission to survive the world and it's nay sayers?
Obsession on creating value

Bezos is always talking about how to lower prices by leveraging technology and doing things at scale. They are investing in predictive delivery, drones, just in time supply chains, packaging, etc. while lowering costs. In this year's letter, they claim to have dropped prices 51 times on their own. Bezos has been been often quoted as saying "Your margin is my opportunity". Try competing with someone like that.

We want (Amazon) Prime to be such a good value, you'd be irresponsible not to be a member.
Jeff Bezos, 2016 Letter

At their annual shareholder extravaganza, Buffett touts and personally consumes various BRKA portfolio products. Amazon rarely worries about competition. Their bar for both of them is, well, themselves.

Takeaway # 3: Are you obsessing about delighting your customers and shareholders?
Are they getting better with every passing day? That leads us to the next point.
Operational Excellence

This is a cornerstone for both companies, albeit in different ways. Amazon and Bezos are legendary for paying excruciating attention to detail. The delightful Amazon customer experience in a highly competitive, cut-throat retail business is something to admire.

What Bezos and crew do with customer experience, Buffett and his CEOs do with the business numbers and their capital allocation process. Almost every business in their portfolio, continues to outperform year after year. And Buffett and crew take pride in finding the best CEOs and staying out of the way.

Takeaway # 4: Are you relentless?

Wit and Humility

Great leaders are intense, driven and yet don't take themselves seriously. Both of them, esp. Buffett, thrive on cracking jokes and have a strong sense of humour. They also don't have a problem talking about the world around them. Loved both of their quotes on the current US Presidential election.

Takeaway # 5:
Take your business seriously but not yourself.
Anonymous

Bezos cites repeated failures as a pathway to success for Amazon Marketplaces. Buffett cites various Billon dollar mistakes he's made in his investment life. Though, remember, both have generated $100's of Billions of value for their shareholders.
Of course, there are innumerable differences between the two. One is an operator par excellence and the other is the best capital allocator mankind has produced.  One creates; the other enables and facilitates.  Bezos is obsessively driven by technology while Buffett has religiously shied away from it.  Though, this year, he talks about using Webcasts as a way of graduating into the 21st century.
Both have courage of their conviction to go all in (they don't hedge) but they do have different risk appetites. Buffett invests in simple businesses that have moat and can survive for decades and more. Bezos on the other hand is constantly trying to invent, create and disrupt. That Amazon Web Services is now a $10B business is a tribute to Amazon's spirit of experimentation and long term persistence.
Needless to say both are arguably the best in the world in their areas. Given that Buffett has significant positions in Walmart and IBM, it will be amazing if BRKA decides to invest in Amazon.com! If that happens, I will be reading the BRKA shareholder letter thrice that year.
(Amit is a Managing Partner at Prime Venture Partners, a seed stage VC firm based out of Bangalore, India. Prime invests in category creating, early stage companies founded by rock star teams.
Amit has more than 20 years of experience in technology and internet industries. He's held leadership positions at Makemytrip, Google and IBM. He is also deeply engaged with the early stage ecosystem in India and actively volunteers with iSpirt, TiE and NASSCOM. He tweets regularly @amitsomani and is trying to become an active, late blooming blogger).